Green Meadows Will build You A Fence to Stand the Test of Time
Your home is your castle and Green Meadows will build you a fence to stand the test of time. We guarantee that any option will bring long lasting prestige and increase the property value of your home. A wooden fence makes an attractive addition to any yard. At Green meadows we work one on one with the homeowner to formulate a custom design. We are proud of the high quality materials we select that are used and customized to meet each and every household's individual needs and budget. Materials are enhanced by our wonderful team of professionals who customize them with your benefits in mind, and who are ever so conscious of your safety and security. Still not convinced that a picture is worth a thousand words, request a reference and speak with one of our many satisfied customers.
We Provide Free Estimates That Are Risk Free with Absolutely No Obligation
Using your ideas and specifications we provide free estimates that are risk free with absolutely no obligation. Our company wishes to extend our dreams for a safe and elegant surrounding to foster and grow with your family's ever changing needs.
Whether you are looking for a new privacy, board-on-board cedar fence, white wood fence, chain link, wrought iron fence, a stain job, or just simple repair and maintenance, Green Meadows can meet and exceed all your fencing needs. Contact us to request a FREE Estimate or Call Us at (647) 830-5695.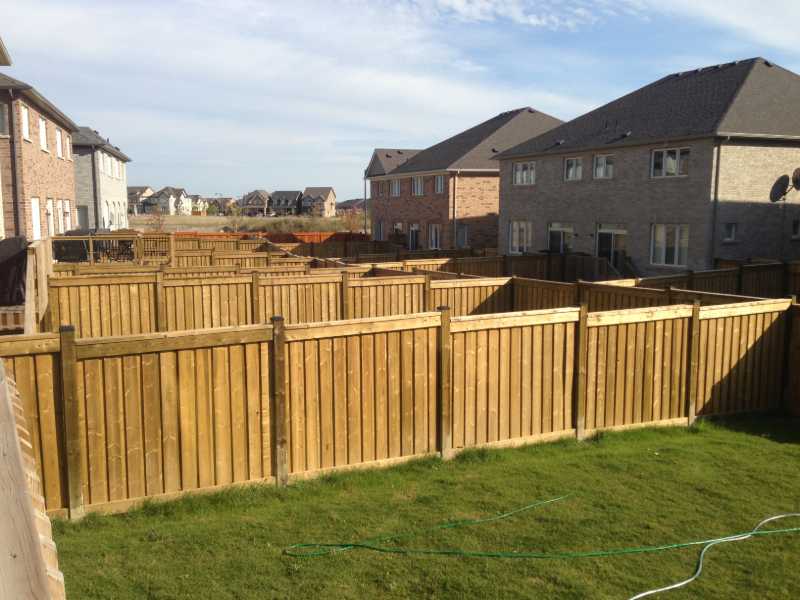 Pressure Treated Wooden Fences
Pressure treated lumber is chemically impregnated softwood lumber. The chemical solution is copper based giving the lumber durability, decay resistance and rot resistance. The green colour of pressure treated lumber can be attributed to the copper preservative used.
Cedar Wooden Fences
Cedar is a naturally durable softwood that originates from Western Red Cedar trees. High levels of extractives are found in cedar providing the wood with a high level of durability and rich appearance. Cedar requires yearly maintenance otherwise they will fade to a natural grey colour over time.
What Makes Us Stand Out From The Competition?
From first grade woods to rust resistant hardware, nails, and screws, we use premium building materials and supplies on all projects. Also, we not only meet building codes, but we exceed them. We dig our post holes wider and deeper for straighter lines to extend your fences longevity. We do not use pre-fabricated panels that are under nailed and thrown together with substandard rails and pickets.
Before designing your Fence we encourage you to ask the following questions:
What is my budget for my fence project?
The reason budget is important is that fences can vary in price based on material and size. If you have a firm budget it is easier to work backwards from that budget amount so you can have the fence of your dreams. Ways to save money on a fence project is to use pressure treated spruce (instead of cedar material). Click for a Free Estimate
What type of material do I want to work with?
Pressure treated spruce and cedar are your most popular options for fences. Each comes with pros and cons and varies in price. See our gallery for some pictures of pressure treated and cedar fences.
What design do I want for my fence?
We will work with you to design the best fence for your space, your budget and your expected use. Most fences can be designed in a few minutes while discussing with your family, but for larger projects we are more than happy to assist.
Green Meadows Can Meet and Exceed All Your Fencing Needs
Green Meadows Landscape Management provides fencing service throughout Toronto and surrounding areas.
Call Us Now